Custom Handmade Leather Buttstock Cuffs & Shoulder Slings
All Rifle and Shotgun Buttstocks have different shapes, sizes, and widths! Email us to see if we have a pattern for your buttstock.
PRICE - see below - contact us for a quote!
All Buttstock Cuffs and Shoulder Slings are one-of-a-kind!
See GALLERY below for past creations. If you see something you like please contact us about it and we may be able to create something similar just for you!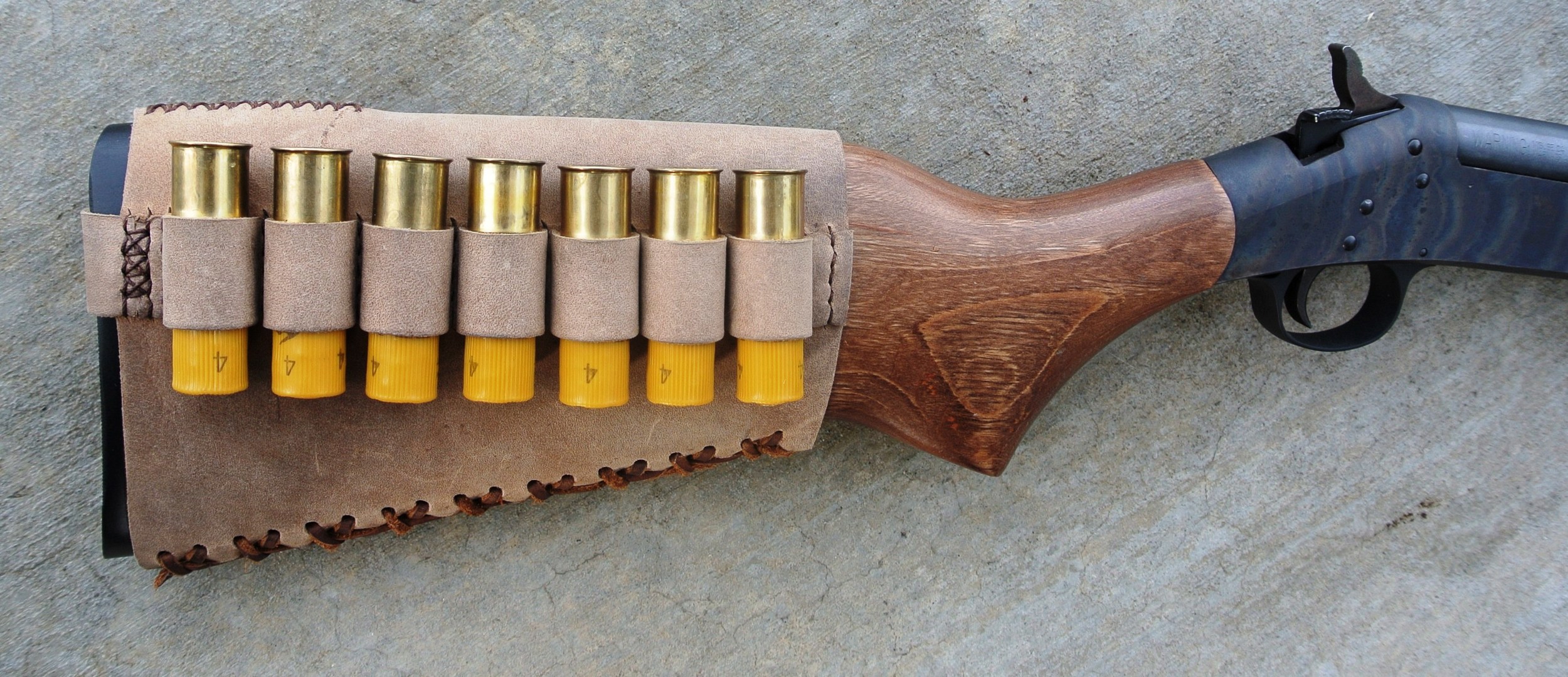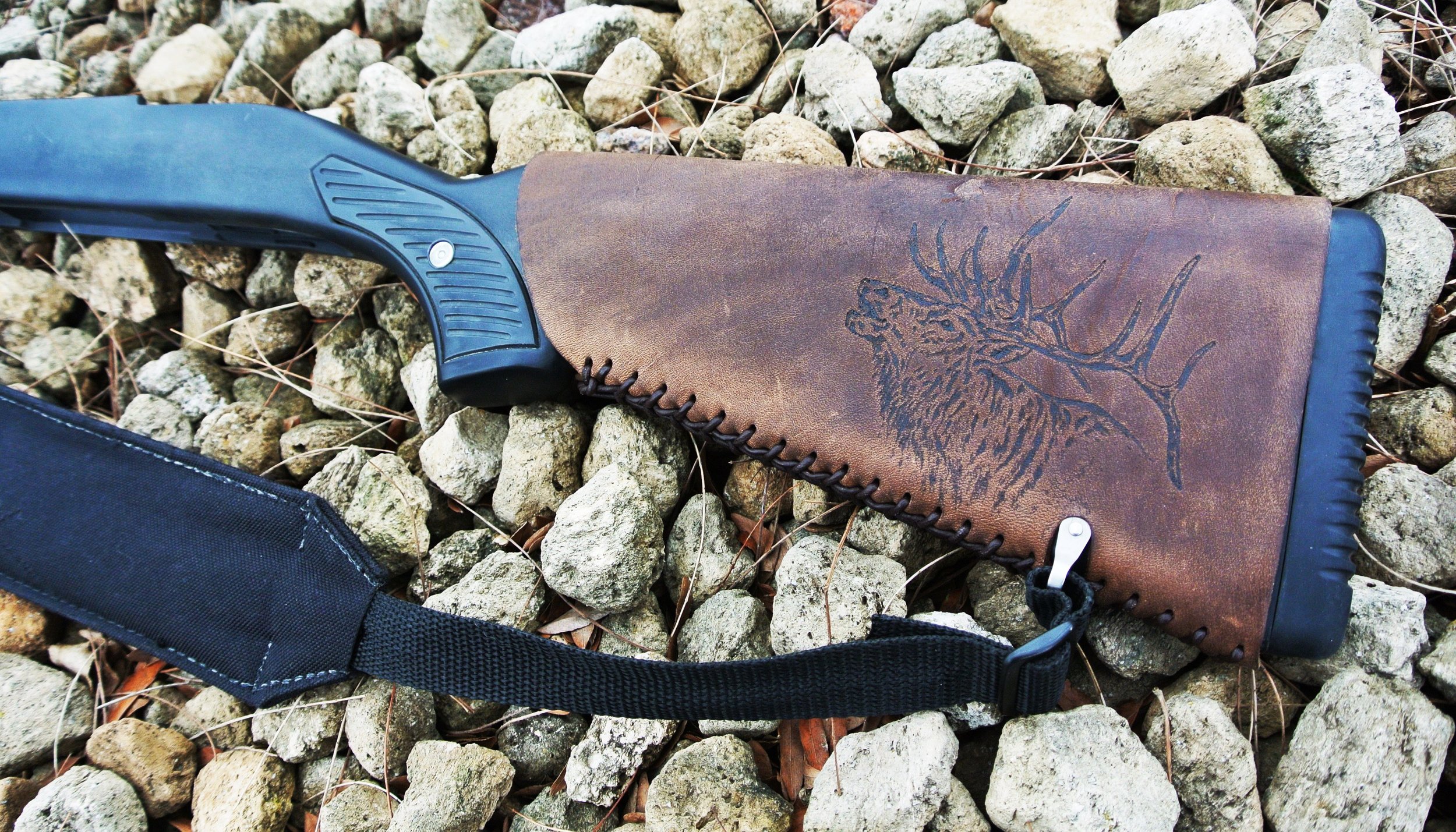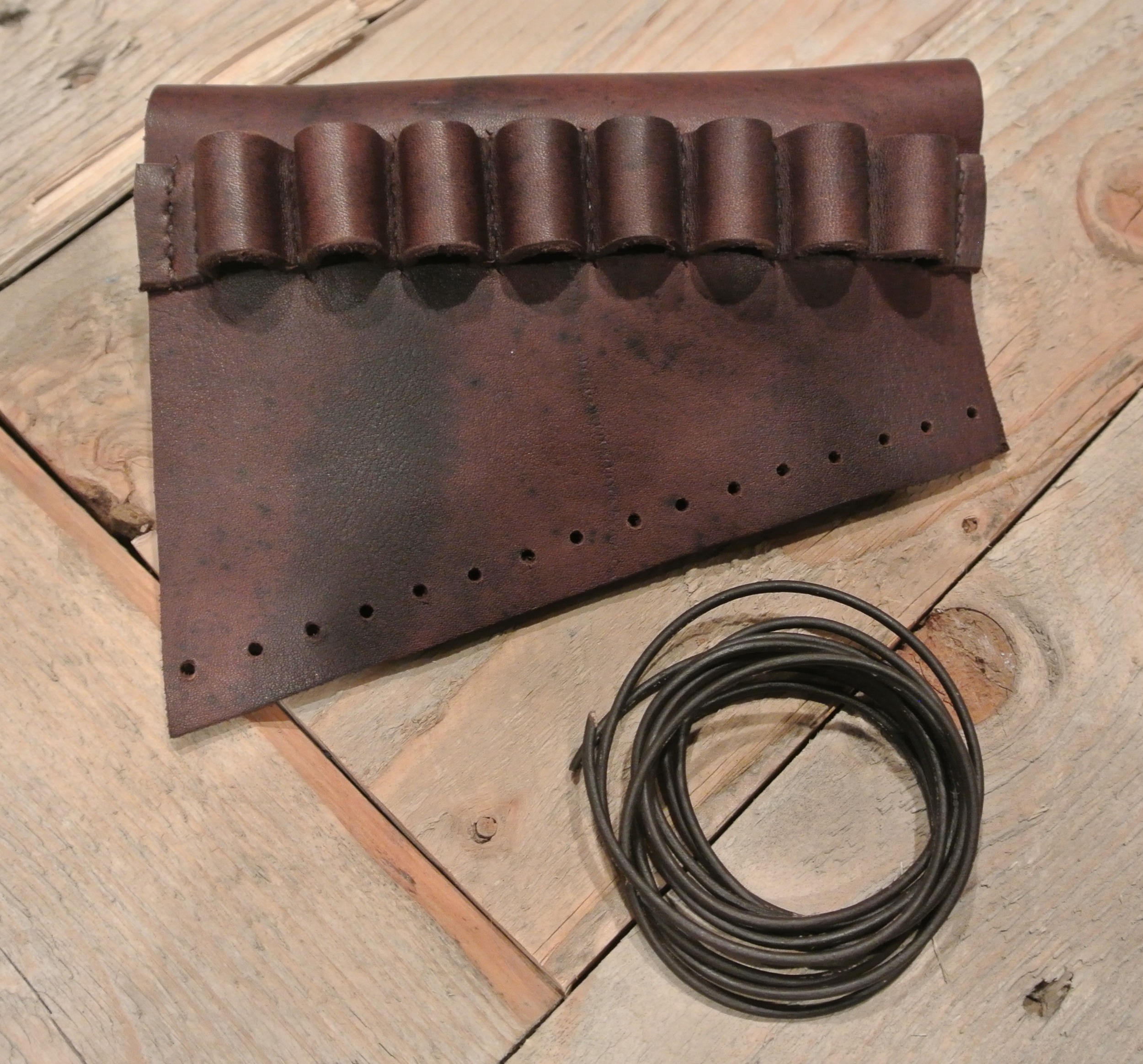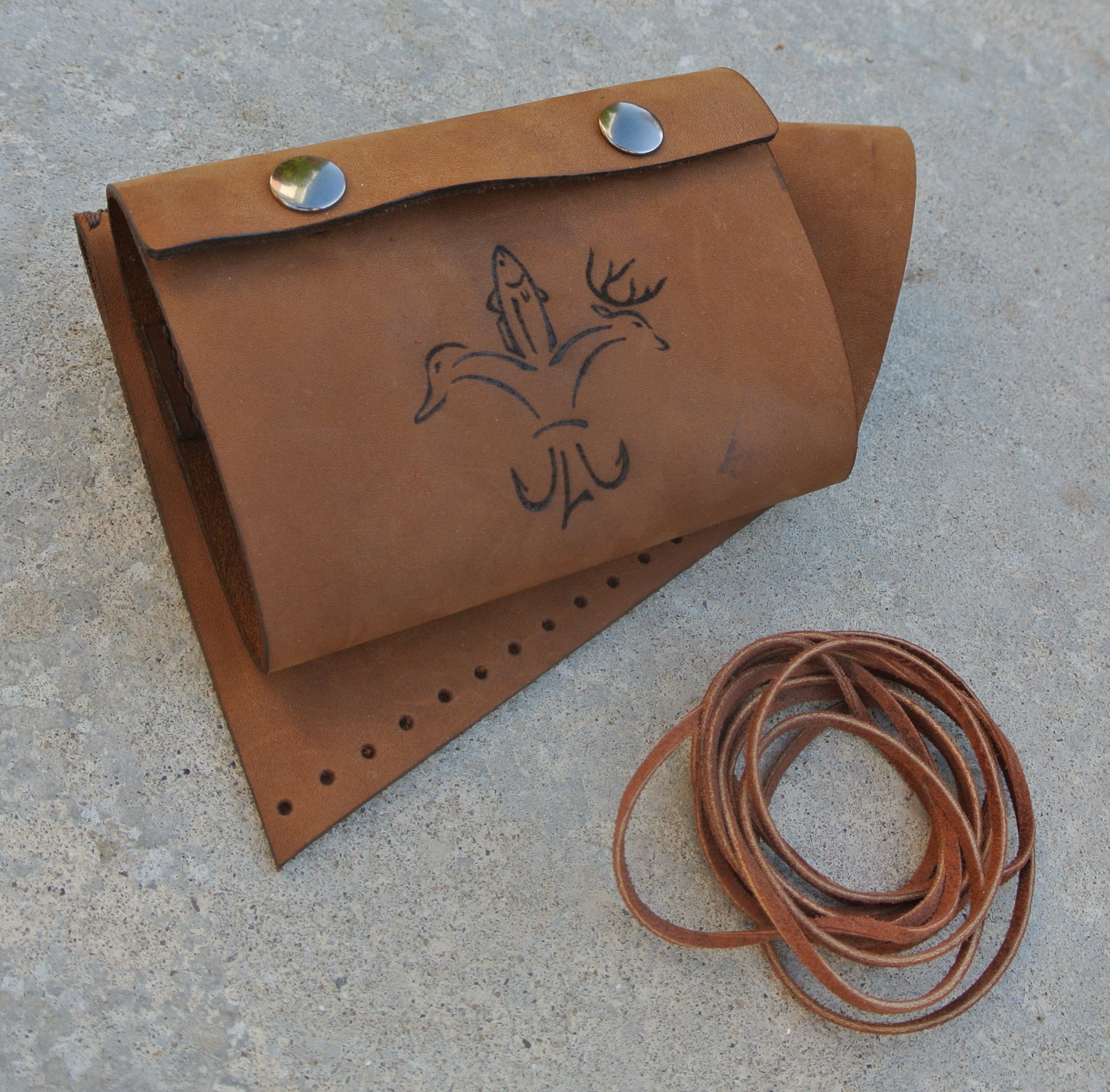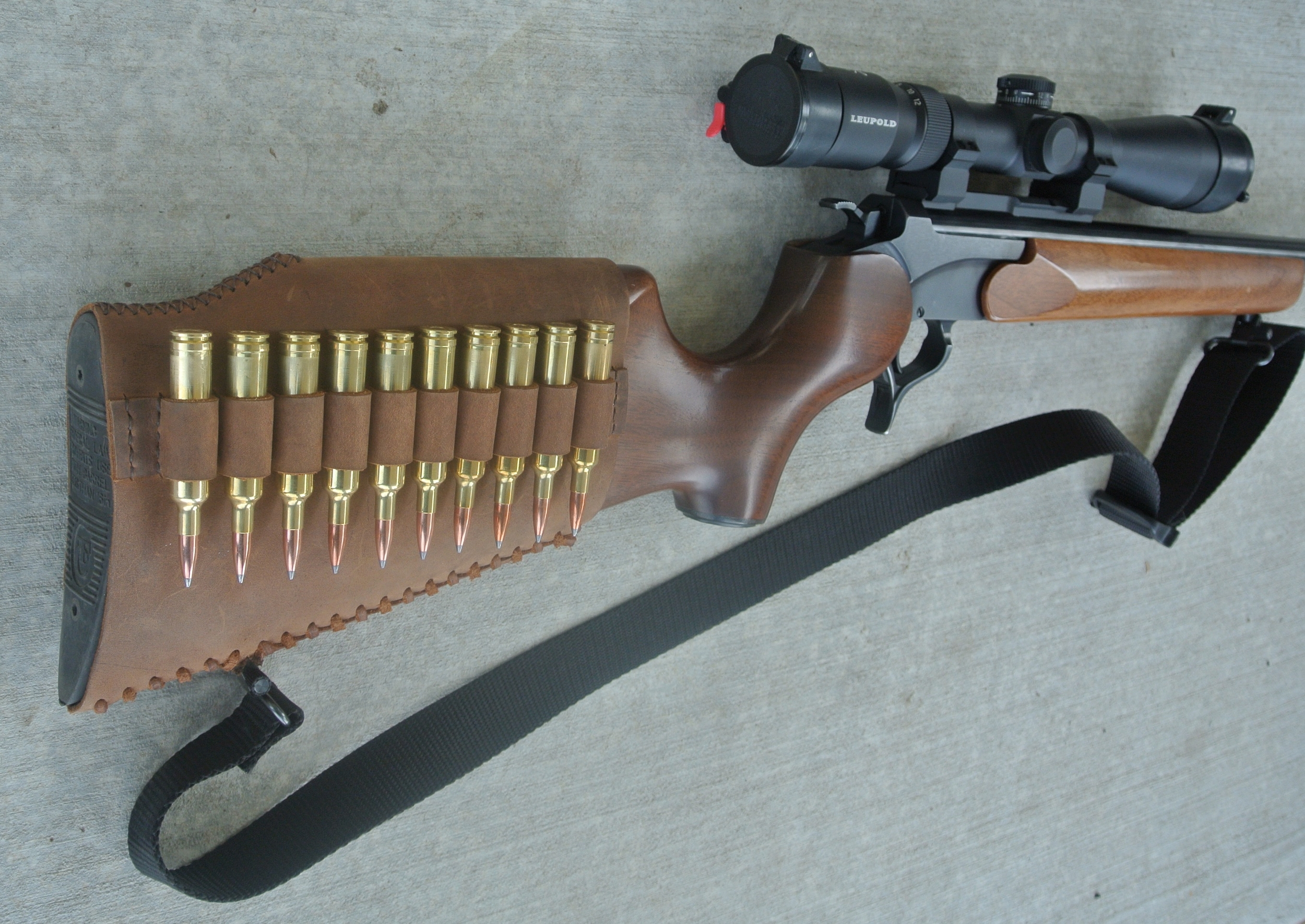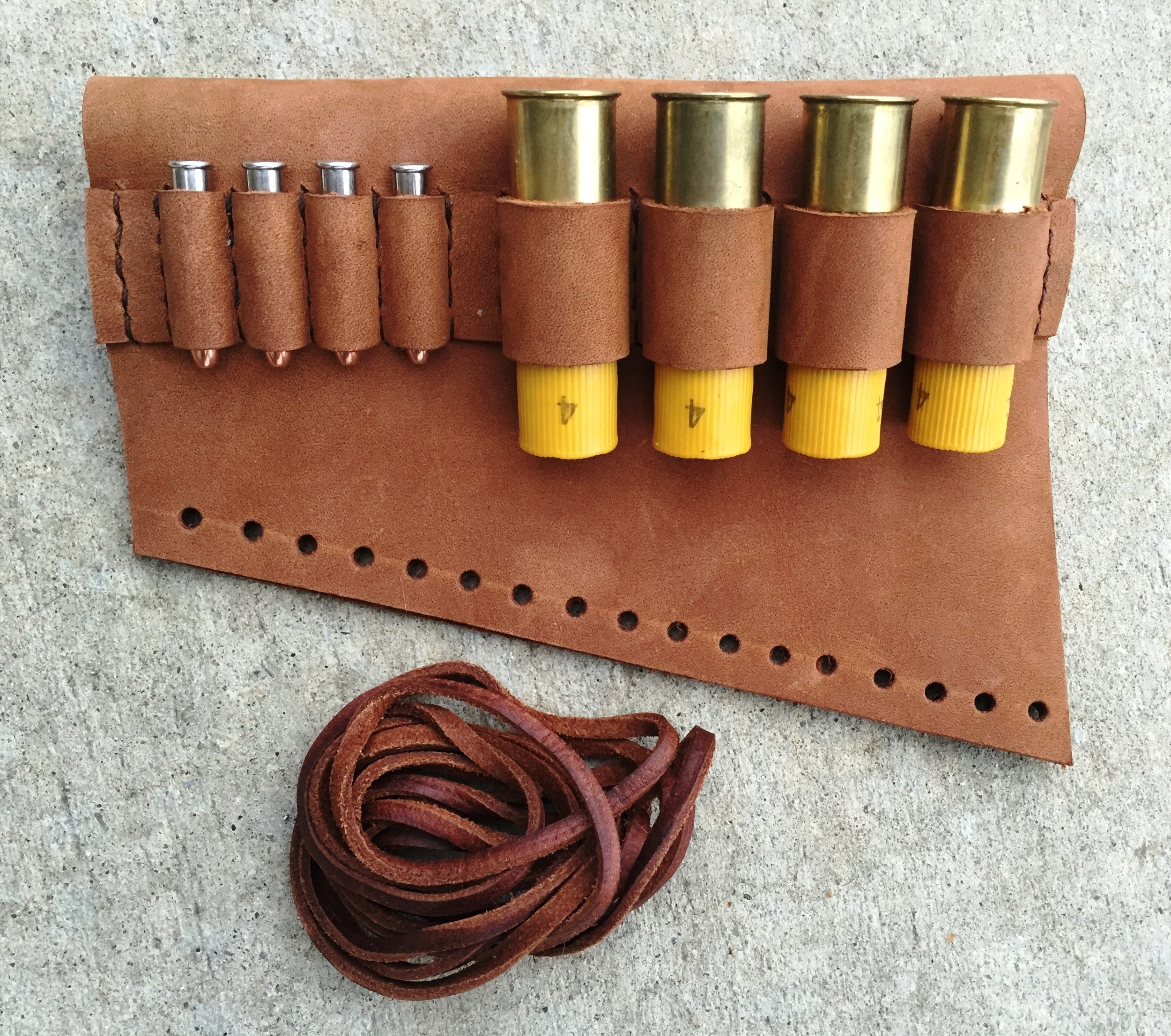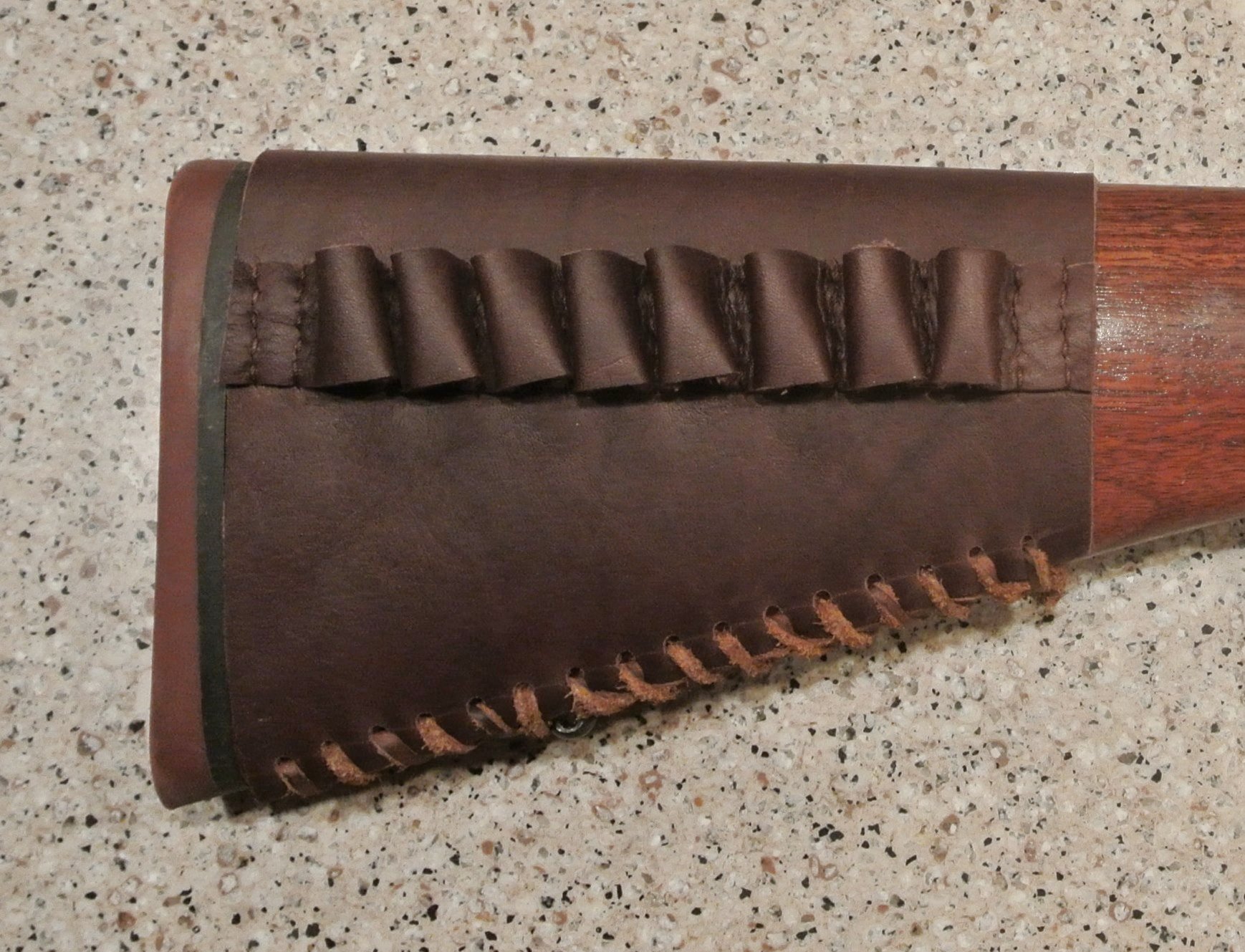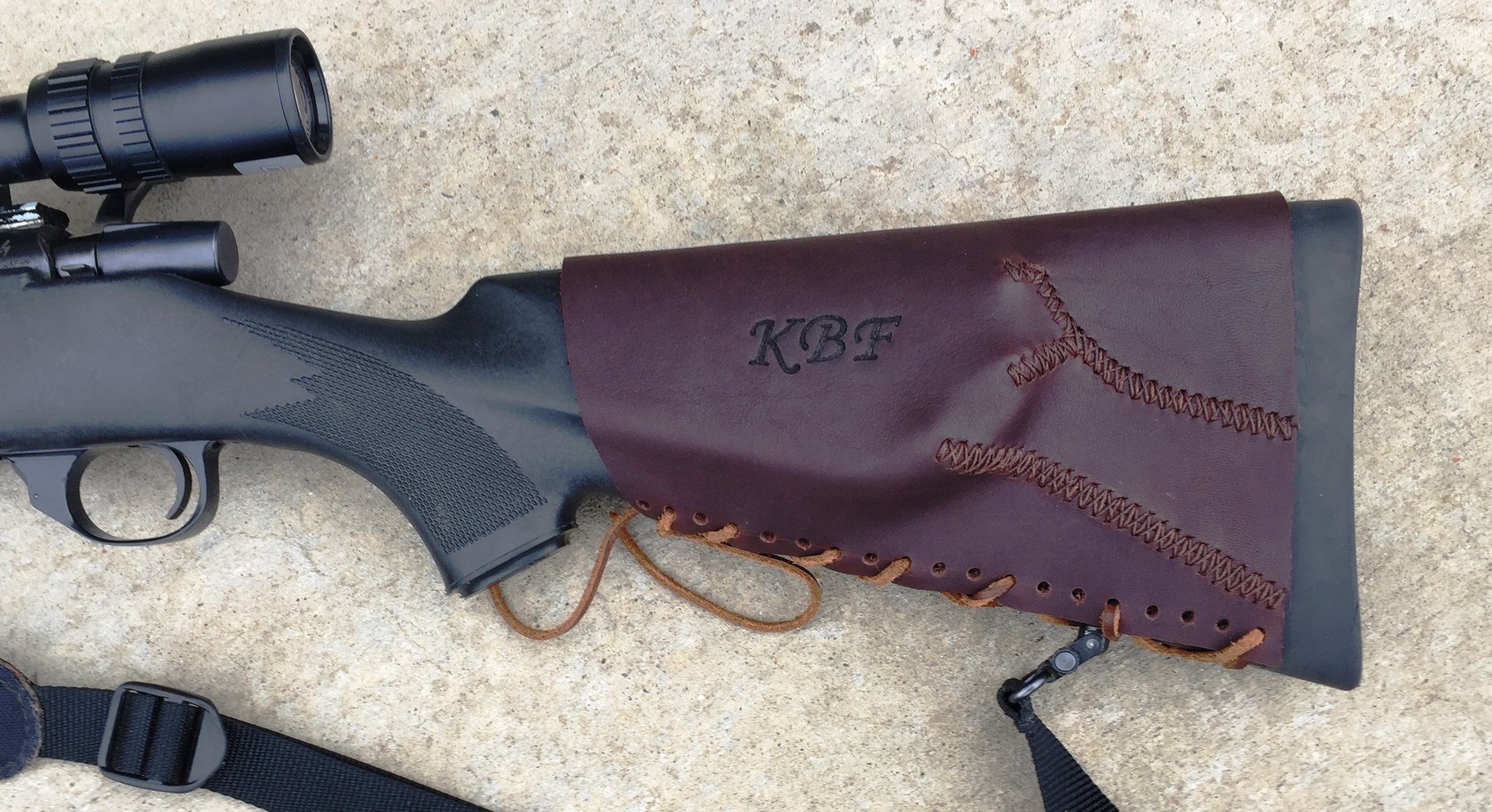 HOW TO PURCHASE:
We currently do not have a shopping cart on our website...everything is custom, made to order.
Contact us to place an order and make a purchase!

We will email you an invoice through PayPal (you do not need a PayPal account in order to pay, just a credit card).
(Once we receive your payment we will create and ship you your product.)

What type of Custom Buttstock Cuff would you like - PLEASE EMAIL US YOUR ANSWERS TO THESE QUESTIONS?
- Leather color(s) - we will email you a picture of our current selection to choose from?
- For what type of firearm and caliber?
- Is it the original stock or an aftermarket stock? If so, what?
- Does your buttstock have a sling swivel stud?
- Number of ammo loops desired (or however many that will reasonably fit)? Placement type - vertical or horizontal?
- Left or right handed shooter (so we know which side to place the ammo loops)?
- Type of enclosure for the butt of gun (none, strap, completely enclosed, other)?
- Type of closure for the cuff (lace-up, snaps, etc.)?
- Cheek pad inside leather to raise cheek...usually only needed for some guns with scopes? I can only build this if I have the shooter, rifle, and scope in my workshop (WE ARE NOT MAKING CHEEK PADS AT THIS TIME)!
- Custom heat engraving? What (photos help)?
- Any other custom work or extras? Please be as descriptive as possible (photos help)!
- What is your mailing address?
- Please email us a photo of both sides of your firearm if you can, thank you!

Basic Buttstock Cuff PRICES:
- Blank Cuff - lace-up and no enclosure for the butt of gun and, no ammo loops - $42.00
- Standard Cuff - lace-up and no enclosure for the butt of gun (includes any # of loops desired, under 12, or that can fit) - $57.00
A Standard Cuff should only be used if the firearm has a Sling Swivel Stud or is a Monte Carlo type stock. Otherwise, the Cuff may slide forward. So if you do not have either of these then please order a Strap Retention Cuff. Thank you! If we do not already have a pattern for your buttstock and need measurements then click here for instructions!
- Strap Retention Cuff - lace-up and strap enclosure for butt of gun (includes any # of loops desired, under 12, or that can fit) - $67.00
Please measure the distance around the butt pad on your firearm for us...from stock, around the butt pad, and back to the stock. Make this measurement approximately 3/4 the ways up the firearms butt pad. We have you do this because some butt pads are thicker than others. And sometimes gun manufacturers make slight changes to butt pads year after year for the same firearm. Strap measurement instructions click here!
- Full Back Cuff - lace-up and completely enclosed butt of gun (includes any # of loops desired, under 12, or that can fit) - $95.00
These are too difficult for us to make without having the actual buttstock in our possession. Therefore, if we do not have the same firearm/buttstock as you then you will have to mail us your buttstock in order for us to make a fully enclosed buttstock cuff. In this case, we charge you exact shipping costs to mail it back to you (it's safe to say it would be similar to whatever it costs you to mail to us...we are in Utah 84404).

Buttstock Cuff and Other ADDITIONS:
- Monte Carlo type stock - $22.00
- Bullet leather cover that snaps closed - $40.00
- Horizontal shell loops, as opposed to vertical (total, not per loop) - $7.00
- More than 12 shell loops (if they can fit) - $0.30 per loop
- Lever action leather wrap (do you have a large or standard size loop lever?) - $7.50
- Any other closure besides leather lace-up - contact me for price

Basic Shoulder Sling PRICES:
- Basic Sling - $110.00
- add Sheep Wool - $48.00
- add shoulder padding - $40.00
- add a thumb loop - $10.00
- add 2 ammo loops - $10.00
- add 4 ammo loops - $15.00
* we do not provide the detachable 1" sling swivel set to attach to the firearm...you can purchase these at any sportsman store.

Shipping within the US - $7.95
- This is for one Buttstock Cuff and/or Shoulder Sling. More than this may cost more in shipping.
*All other locations (non US) are exact shipping cost. Email me your address if you would like a shipping quote.
Please email us at: CircleM@outlook.com
PLEASE EMAIL US WHENEVER POSSIBLE, PHONE CALLS are difficult for us to answer/return because of other work obligations, thank you!
Call us at: (801) 589-6773
or, click here and complete this Handmade Inquiry Form